bah, i'm so irritated. i'm exhausted and my feet are aching tremendously due to walking in these, almost non-stop, all day: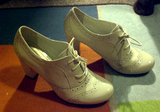 i feel a little strange to say that those shoes are my first
real
pair of casual heels. i've bought plenty of formal heels for special occasions before, but it felt liberating to finally score my own pair of heels to wear around the town. the effort that it took to get these was hellllll, let me tell you.
while i adore parents very dearly, they don't exactly share my 'passion for fashion.' (my mom did back in her teenage/early-twenty years, but that's a different story) it's only taken early this year for my mother to finally share a little bit of compassion and understanding for what it means to me to build up a sufficient wardrobe that will LAST rather than be comprised of cheap buys that won't hold for more than a year, and, ultimately, make me happy. the lace-up booties were a bit of an impulsive buy since i had tried them on earlier in the week with my mother at the mall, and the next day we went scurrying back in fear that we wouldn't be able to find a pair just like it at such a good price. i fear now, though, after spending an entire day (from about 10 am to 6:30 pm with a little less than a 30 minute break and lots of stairs-climbing, bahhhh!!) with them, that they'll eventually wear down faster than i'd expected. i've come to the conclusion that my best bet is to save up for a pair that i know i'll worship and that will stay strong for as many times as i'll over-wear them. perhaps that kind of responsibility will gain brownie points with the parents and a little more respect...
anyway. ;]
the plan for today was to take a trip to greenwich village with my closest friends, really just to explore and get a taste of the things that are around. of course, being me, my main hope and goal was to find at least ONE clothing/accessory store that i'd be able to browse in and perhaps score something from. unfortunately, my friends were not so keen on the idea and were preoccupied with other things, therefore we missed out on quite a few streets that could have at least had a few interesting things here and there. i ended up wasting money on food and nothing else the entire day! (isn't it infuriating when that happens?!) i feel a little disappointed that the most successful part of my day was snapping dozens of pictures of rainbow striped flags.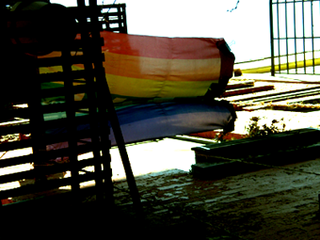 no matter, i refuse to give up hope! seeing as i didn't blow -too- much money today on my village expedition, i've managed to increase my savings that i think i'll use for some queens thrift-shop exploring with my sister. the two of us have yet to find a decent thrift shop in our own town, but perhaps we'll strike it lucky if we explore hard enough.
any new yorkers with advice on great thrift shops with reasonable prices in the five boroughs would be grrreatly appreciated!