i finally got around to jean customizing today! i bought a random pair of jeans from old navy a little while back (mainly because their jeans are inexpensive and so i don't feel as guilty as i would messing up on a very expensive pair, should an accident occur) and decided on rit dye's kelly green dye just to experiment.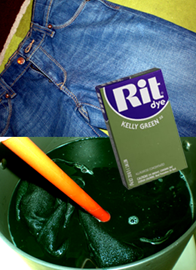 the precious pair is currently drying in my bathtub. it was difficult work trying to wash out all of the green.
i'll definitely post more pictures once i get around to deconstructing!