new york had the most beauuutiful spring (almost summer?) weather this past week. not to be a total cheese-fest in regards to this post, but it's really given me a chance to stop and smell the roses...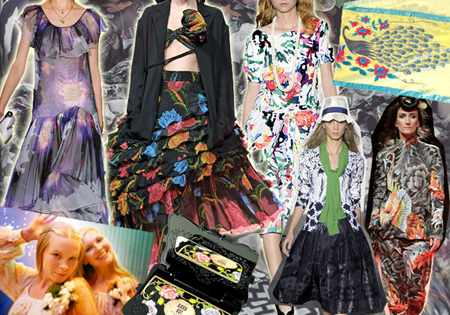 [background from foto decadent. l-r, top row-bottom row: roberto cavalli, yohji yamamoto, thakoon, anna sui flight of fancy scarf, the virgin suicides promo pic (?), anna sui blotting paper w/ mirror case, thakoon, yohji yamamoto]
(lol, i know. every blogger gives this obligatory florals post. so i thought i'd add in a few random things that remind me of the season/this look.)
yohji yamamoto, thakoon, roberto cavalli
the prints look so airy and colorful, but at the same time, they give off this tough urban undertone. (especially the cavalli & yamamoto here.) it makes them so wearable, wherever you are and with whatever kind of look you're trying to portray. i approve! ;D all of this innocence with underlying darkness, of course, reminds me of
the virgin suicides
, particularly the movie. i've just started reading the book upon hearing numerous times how much better it was compared to the movie.
i added some random anna sui pieces in there, as well, mainly for the delicate but rough look that pops out in everything anna touches. even though anna sui always reminds me of fall. ;P
hope your weekend is fab,
cindy