when i first started growing an interest in fashion a few years ago, at the top of my list for favorite . needless to say, the surfacing of the fall/winter line for 2008-09 a couple of weeks ago was a bit of a surprise.
however, after more than enough time to settle down and really observe, maybe it's brilliance after all. in my opinion, one of the most essential things about being a designer (beside making gorgie pieces, obv. ;]) is the ability to 'switch it up' every once in a while. though i don't think i'll see myself saving my pennies for a swimcap, many of the pieces seem pretty inspirational. i love the color palette and pattern shapes, particularly on the dresses. the collection is a great example of a designer who is unafraid of creating something different, unlike many mainstream designers out there.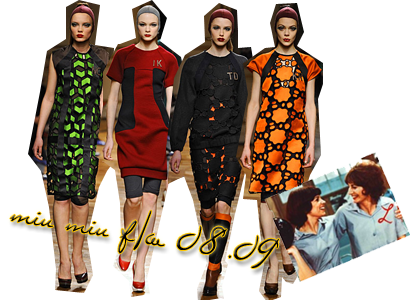 i think my favorite part of it all would be the quirky initials. how laverne & shirley of you, miuccia!
plenty of love,
cindy