when people ask me what my favorite color is, i'm usually at a loss for words. i normally just come to the conclusion that i adore anything bright and vibrant, any color that shines out. i honestly can't think of a bright or deep or bold color that i don't love with all of my heart. when a mix of bold colors are blended together in anything, be it a painting, an outfit, makeup on a face,
anything
, i'm likely to let out a series of, 'oooou's and 'whoooa's in a toddler-like fashion.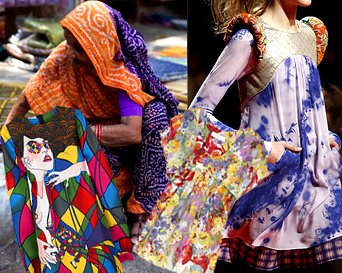 l-r:
miu miu lady harlequin bubble tunic
(it makes my heart ache with llllove),
indian street style
(cultural clothing is so beautiful, and the colors of this cloth are so rich),
stella mccartney floral print blouse
(it's like a painting!),
wunderkind f/w 08.09
(i really liked the clothing from wunderkind this season. look at the faces in that shirt-- so innovative)
i would love to fill my closet with bucket-loads of bright apparel; it seems an ideal way to stand out!
plenty of love from,
cindy
[on a completely unrelated note, as of 2:49 today, spring break has officially begun for me! oh, the joy!]